Serbia: TV Viewers Force Fed State Spin

The Serbian state has long been hiring three private companies to produce material that TV stations use for free – the problem is that viewers don't know this is not news but PR.
The first article from Serbia produced as a result of investigative journalism grants awarded by the project SEE Media Observatory via open call in August 2013. 
When millions of Serbian TV viewers sit down and watch the news in the evening, little do they realise that they are often watching promotional footage that ministries, state agencies, public companies and local governments have paid for.
Media houses in Serbia constantly browse the Infobiro website and download footage, which hits the nation's TV stations later that day.
It is a widespread practice to which all electronic media resort in order to fill gaps caused by their inability to cover key events.
While media outlets justify accessing this free footage on the grounds of economic necessity, experts say the public are being deceived because the source is not sourced.
Despite already financing two costly media outlets, the public broadcaster Radio Television Serbia and the state news agency, Tanjug, treasury records show that in the last nine years the state spent at least €3.8 million on three closely connected companies, Infobiro, Frame TV Production and Videonet, for video coverage of its activities.
The total sum is certainly higher, as the treasury keeps no record of the spending of public companies that also used the services of Infobiro, Frame TV Production and Videonet.
Most of the contracts were assigned to the three companies through direct negotiations and without a public tender.
In 2011, the prosecutor's office filed criminal charges against Frame TV Production and one of its owners, saying it suspected them of money laundering and tax evasion. 
In spite of that, the state has continued contracting the same owners.
Each of the players involved has an interest in the relationship: the state pays to be profiled in the best light; cash-strapped media outlets access a mass of free content, and a group of businessmen profits from recognising and responding to both these needs.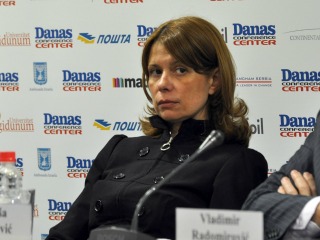 Sanja Ignjatovic, director of Infobiro, says the company answers a public and institutional need, while compensating for the media's inability to send crews to attend all these events. 
"TV stations in Serbia daily seek help to cover events as they lack the production capacity to do so, so, we're the bond and ask the questions instead of them," she said. 
While some experts and unions say the media are effectively broadcasting covert propaganda, not independent coverage, editors respond that while they cover crucial events alone, they rely on Infobiro for material on official statements.
Ljiljana Smajlovic, president of the Journalists Association of Serbia, UNS, believes the relationship is unhealthy. 
She says it suits the state more than the media because what is being broadcast is effectively propaganda.
She summarises the information released via Infobiro as, "this is what state institutions want you to know about them".
The state's action in contracting Infobiro, Frame TV Production and Videonet has meanwhile undermined independent news agencies, whose economic survival depends on subscriptions, which are falling.
FOTO: Sanja Ignjatovic, director of Infobiro
Filling a niche, profitably
The idea of producing video material for government institutions emerged in 2005, when
Mile Balac and Bojan Trajkovic
formed Frame agency. The Ministry of Finance, then led by Mladjan Dinkic, was among their first clients.
In 2007, Balac and Trajkovic joined forces with Sanja Ignjatovic and Ljubisa Paunovic to establish
Infobiro
, whose activities were identical to those of
Frame
. 
At the time, Paunovic and Ignjatovic already owned a marketing agency, Loby PR, while Ignjatovic founded another marketing agency, the Lobi house of good communication, in 2011.
Soon after Infobiro was formed, it launched an
online video service
onto which Infobiro and Frame uploaded and archived footage of politicians giving statements and different state organised events, which TV stations downloaded and broadcast. 
In May 2011, however, the Department for Combating Organised Crime filed charges against Lobi PR, Frame and Paunovic and Trajkovic, for tax evasion and money laundering. An indictment was issued in June 2013 and the case is currently before the High Court in Belgrade.
Paunovic denies that Lobby PR issued fictitious invoices and says he will prove that he operated his company lawfully before the court.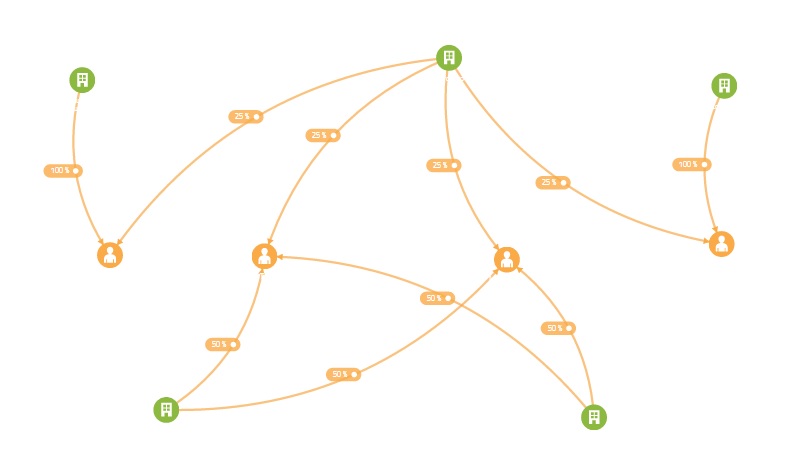 Trajkovic did not respond to numerous calls from BIRN to comment, while Frame's second owner, Balac, also refused to talk to BIRN.
While the Department for Combating Organized Crime was investigating Frame, its owners, Balac and Trajkovic, meanwhile formed a new company, Videonet, located at the same address and conducting the same activity.
By the end of 2011,
Videonet
had assumed Frame's undertakings with state institutions. In 2011, while Frame recorded an annual revenue of €447,000 and Videonet of only €51,000, that trend reversed in 2012, when Frame earned about €51,000 and Videonet around ten times that figure. To date, Videonet videos are still being aired on the Infobiro website.
Juicy contracts
Most of the contracts that the state signed with Infobiro, Frame and Videonet were signed without tenders. The Law on Public Procurement stipulates that public tenders for services of radio and television production are not obligatory.
State institutions paid the three companies between €860 and €4,300 a month over nine years. 
Ever since the companies were established, more than half their revenue has came from the state and at times, the share has risen to 90 per cent.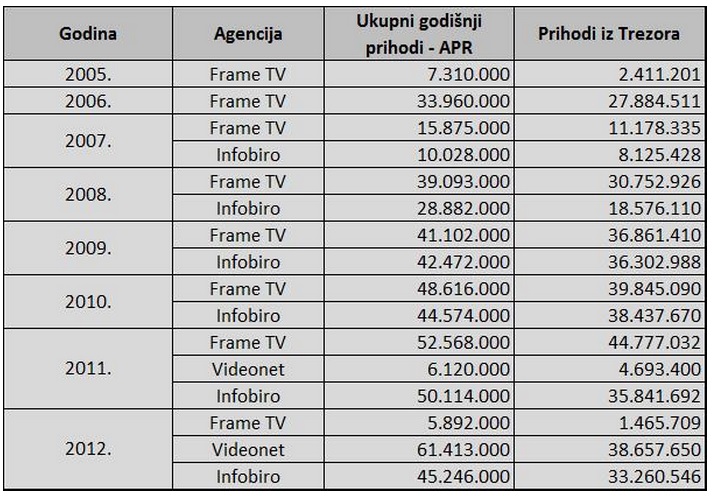 In addition to the basic contract fee, the Privatisation Agency obliged itself to cover all the firms' travel expenses when crews travelled abroad, including the cost of visas, transport, accommodation and per-diem allowances for the cameraman and editor.
Frame continued to produce video material for the Agency until 2012, when Videonet took over the job. The Agency terminated its contract with Videonet in October 2013.
The Agency has refused to divulge its reasons for this, saying only that former officials, sacked in November 2013 were responsible for the pricey contracts. 
Belgrade City Assembly paid the three firms a total of over €361,700 from 2008 to 2013 to cover city events and city officials, and produce two TV series, Beogradski detektiv and Beograd.rs. 
According to documentation that BIRN obtained, between 2008 and 2012, three city public enterprises, Ada Ciganlija, Gradske Pijace and Parking Servis, signed contracts worth €163,600 with Infobiro.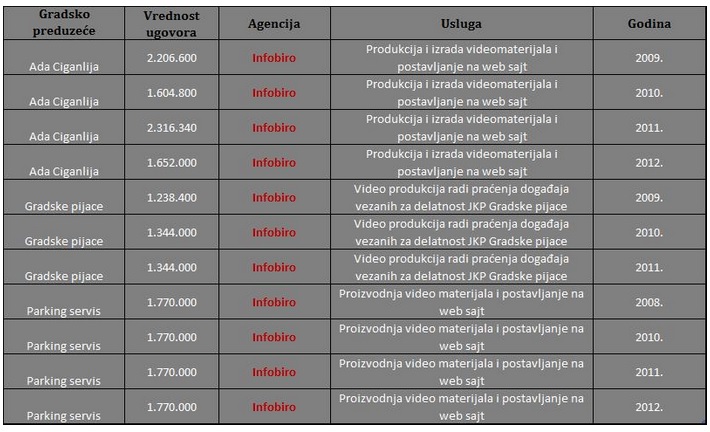 Despite the change of government in 2012, state institutions continued to cooperate with some of these companies. Treasury data show that in the first half of 2013, these institutions paid about €172,000 to Videonet and another €120,000 to Infobiro.
BIRN documentation covering data up until June 2013 shows that the ministries of Natural Resources, of Agriculture, of Trade and Telecommunications and of Regional Development and Local Government, all had contracts with either Infobiro or Videonet.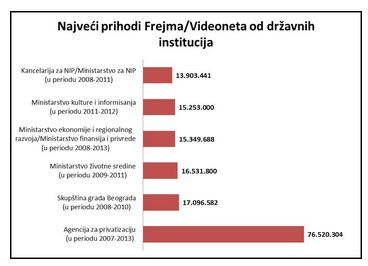 Some have terminated the contracts. The Economy Ministry told BIRN it scrapped its contract with Videonet when Sasa Radulovic, the current minister, took office. According to the ministry, the monthly fee of €4,100 was deemed unaffordable and not worth it.
"The service was unnecessary as the ministry has its own department in charge of contacts with the media… and Tanjug news agency, Beta and Fonet do the same job and charge it to the media," the ministry told BIRN.
No searching questions asked
At some key events, the state has given priority in terms of media coverage to private companies, raising questions about whether a dividing line is being observed between journalistic coverage and pure promotion.
Ljubisa Paunovic, however, says: "It is impossible to work without Infobiro."
"When [Bosnian Serb general] Ratko Mladic was arrested, Prime Minister Mirko Cvetkovic called us because he was under huge pressure from the international media asking for his statement," Sanja Ignjatovic said. 
"We alone were invited to video him, because all those media outlets could then take that material quickly and in full quality," Ignjatovic explained, adding that the Prime Minister had not been a client.
Infobiro's owners say they are proud of the number of times that their videos have been used around the world.
"Since we started working, we have often been the only ones invited to cover major events in the country, because only we have the quality and knowledge," Ignjatovic said.
"This includes funeral of [Serbian Church head] Patriarch Pavle, the gathering of the Non-Aligned Movement, Biden's visit ... None of them were clients of ours," she added.
Infobiro also covers more mundane events across Serbia, such as openings of new factories and roads, visits by politicians to villages and their meetings with local people. 
However, the questions that Infobiro asks on these occasions are sometimes suggested by the spokespersons of the institutions in question. Either way, Infobiro is expected to film whatever the politicians have to say.
While Infobiro fills this niche, not many other media in Serbia have the cash or the staff - who might ask more searching questions - to send reporters to such events.
Pedja Blagojevic, former chief of Infobiro office in Nis, now editor at the website Juzne Vesti, recalls that when he started working for Infobiro in 2008, one of his tasks was to film a tobacco producer's reaction to a new cigarette tax. 
He says that when he asked his bosses what questions to put, they said: "Don't ask anything, just go there, as he knows what he will say. And this man, the farmer, praised the state for the changes it was making," Blagojevic recalls.
This reportage was duly uploaded onto the Infobiro website along with an optimistic-sounding statement by the then Agriculture Minister, Sasa Dragin, another Infobiro client. 
"Using those two statements, the media got its story, but none of them asked any representatives of the cigarette industry, who would have been critical, for their opinion," Blagojevic said. "Whether that was down to laziness or editorial policies, I don't know." 
He said he soon realised that, "It was a clear case of government spin to provide backing for their decision".
Ljiljana Smajlovic says one problem lies in the fact that the media, under the pressure of their own poor financial circumstances, knowingly participate in this fraud. 
"If the video material of these agencies was clearly marked as material for 'authorised release', it would be at least alert the public to approach that propaganda with caution," Smajlovic said.
Editors of news programs in the electronic media told BIRN that they mainly rely on Infobiro for when they lack resources to cover events.
Marija Mitrovic, desk editor at RTS desk, says the station only uses Infobiro material in emergencies; usually they send their own journalists.
Far from transparent
No one questions the need to inform the public of the latest steps officials have taken. Many states have set up their own internal agencies exactly for this purpose.
The problem in Serbia does not lie so much in the quality or nature of the services provided by private companies, but whether it is a defensible use of budget funds, which already finance Tanjug and RTS.
Private news agencies also complain of unfair competition. Ljubica Markovic, director of Beta, a private news agency, criticises "unfair competition that threatens us directly". 
"These agencies don't depend on the sale of their content, while news agencies have to live off subscriptions," she recalled. 
Why should any media outlet pay a subscription fee when they can download content for free?" Markovic asked.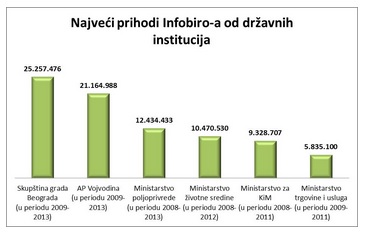 She believes Infobiro content satisfies those who paid for it, but that it is covert propaganda, unlike the product of news agencies that report more objectively.
Ljiljana Smajlovic says she is not suggesting such companies should be banned or even restricted; state bodies and other institutions are entitled to provide free information about their activities.
"What is important is that this is done transparently, so the public knows exactly what it is getting," she said.
This article has been produced with the financial assistance of the project South East European Media Observatory.